Today it's my great pleasure to bring back to The Reading Frenzy an author that I first met waaay back when I first started reviewing for Long And Short Reviews and guess what she just revealed yesterday during her book launch party that I was her first review ever, how cool is that. She's here today talking about a new venture, her debut novel in a brand new Urban Fantasy series.
Claire is also offering during her blog tour a great giveaway so be sure and enter below using the Rafflecopter form.
Enjoy the interview then at the bottom for old times sake I'm posting courtesy of LASR my review of Claire's very first novel, Seduction's Stakes.Plus be on the lookout for my review of Before the Storm coming soon to a blog near you :).
Claire the floor's all yours!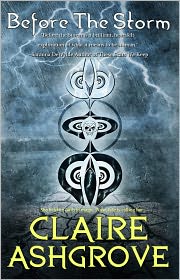 BN ID:

 2940149374274

Publisher: 

Untamed Spirit Publishing

Publication date: 

4/17/2013

Series:

 Windwalker Series , #1

Sold by: 

Barnes & Noble

Format: 

eBook

Pages: 

305
Overview
Halle Rhoads has a terrifying gift--she can kill with the fury of the storm.
She should have known that kind of power wouldn't go unnoticed. Thrust into a world full of dark magic with a handsome stranger who claims he can teach her, she struggles to master her abilities and stumbles onto a dangerous truth. She's a windwalker, the chosen vessel of the ancient dragons who once ruled the world. Many will stop at nothing to possess the power in her blood, should they discover her secret. With necromancers hunting her and Halle's closest allies guarding secrets, mastering her magic becomes a matter of necessity. 
As part of Before the Storm's release celebration, Claire's sponsoring a giveaway of a $15.00 Amazon or Barnes and Noble Gift Certificate. All you have to do is enter the Rafflecopter below. In addition, she has several other opportunities over the next two weeks to win more prizes. To see complete tour dates, and the other release-week events, check out the Before The Storm Tour Schedule!